Brompton has a bit of a cult following. If you have one, you get it. They're weird. They're cool. You can take them anywhere. The super long head tube and seat post give the bikes their distinct look and allow them to fold down in under 20 seconds to be carried anywhere.
In fact, that's how they were invented. When Andrew Ritchie moved to London as a young engineer in 1975, he wanted a better way to get around. Today, Brompton Bicycle company is the largest bicycle manufacturer in the UK.
The "World's Smallest Bike Shop"
This week the London company opened the first of its kind "Micro Junction" store in Brooklyn. Dubbed the World's Smallest Bike Shop, the 70 square foot space is on Front Street in DUMBO—one of Brooklyn's most photographed and most iconic neighborhoods. PR Newswire reports that the "Micro Junction store offers New York residents and visitors a chance to envision the new lifestyle Brompton can offer by saving riders space and time."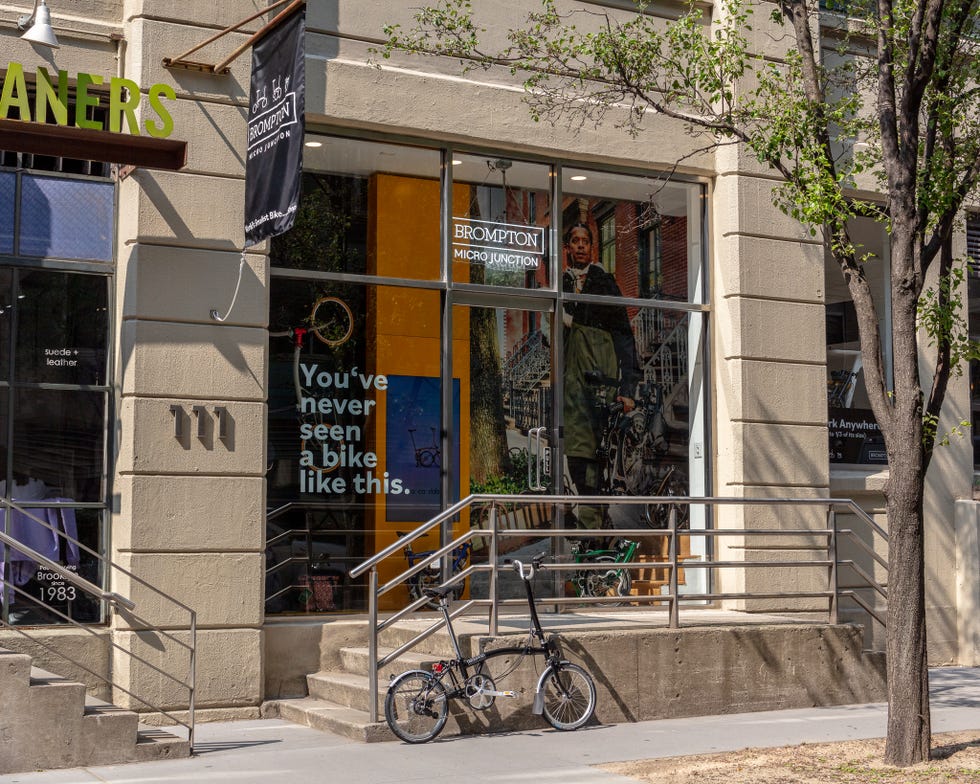 AARON BARRERA
Visitors are encouraged to take a "selfie test ride" by meandering around the bike paths along the East River and tagging their photos with @BromptonUSA and #tryBrompton. Also, if New Yorkers want a little more time to try a Brompton in their real lives, they can take advantage of a free, two-week trial offer.
"We're on a mission to make life in cities more convenient and more fun. The Micro Junction concept is a reflection of that goal," Juliet Scott-Croxford, Brompton President of North America, said in a press release. "Brompton makes everyday life with a bike easy because you can take our bikes anywhere, avoiding theft and connecting multi-modal journeys."
New Yorkers can now purchase any Brompton to be delivered to their home, or pick one up at the flagship store, Brompton Junction, on Bleeker Street in the West Village.
BicyclingBicycling Lettermark logo
Writer
Micah Ling is a freelance writer who lives in the mountains of Colorado. She splits her free time between mountain biking and trail running.